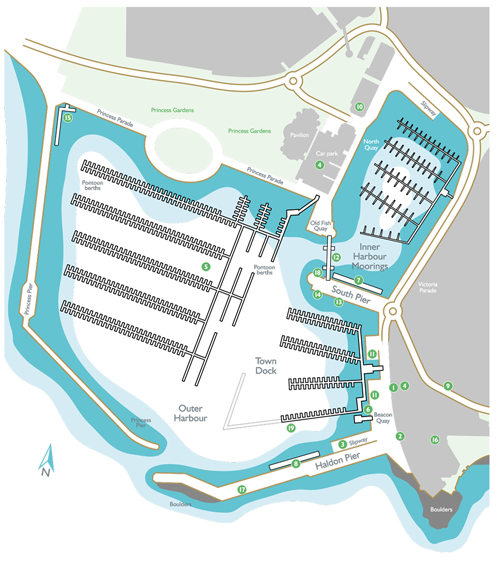 N 50° 27' 45 W 003° 31' 73
With almost 1,000 berths available, Torquay Harbour is a well-protected yacht haven with access to some of the best facilities in the Southwest. It's the ideal base from which to explore the English Riviera's coast.
Torquay Harbour lies on the North shore of Tor Bay and whilst benefiting from an expanding marine leisure industry, Torquay remains a fully commercial and busy little Devonshire port. The Harbour's also on the fringe of the Town centre giving easy access to shops, restaurants and bars.
Haldon Pier to the South and Princess Pier to the West, form the main breakwaters and give shelter to the enclosed harbour facilities.
Haldon Pier is very much a working Pier with additional space to accommodate an eclectic range of maritime events. During the summer season, the Pier also provides gangway access to over 90 metres of visitor and event pontoons. Haldon Pier is regularly used by visiting yachts, pleasure boats, fishing vessels, HM Craft and other commercial workboats. Beacon Quay provides access to a modern and user friendly slipway, accessible at all states of the tide. The Quayside contains shops, cafes and ample space for trailers and a boat park area. Princess Pier is a popular promenade, with views across Torre Abbey Sands, Corbyn's Head, Livermead Head, Paignton and beyond.
The outer harbour comprises of a 170 berth Town Dock pontoon facility managed by us and a 440-berth Marina, managed by Marina Developments Ltd. Visitor berths are generally available throughout the year. 
The Inner Harbour lies behind a cill and bridge, impounding the water at half tide level and is home to 200 pontoon finger berths for boats up to 9.14 metres long. Access to the inner harbour is subject to tides, with entry via a bridge/cill which stops the inner harbour from drying out at low water.
A small area of pontoons provides space for commercial outlets and further visitor berths.
Torquay's harbour lies at the heart of the town and only a short walk will lead visitors to a wide variety of facilities. Restaurants to suit all pockets surround the harbour, from locally sourced fish and chips to Michelin starred dining. To the west of Torquay Harbour lies the Princess Theatre and Torre Abbey Sands. 
Venturing further into the town the visitor will uncover pleasant al fresco eating and drinking opportunities and a good range of shopping and visitor attractions.
Information on moorings at Torquay Harbour can be found on our Moorings page and visitor berthing facilities can be found in our Visitor Moorings page.