Kayaking and canoeing has regained popularity in recent years with many new types of craft becoming available to a wider market. Sit-on-top kayaks designed for fishing, leisurely  paddling and surfing are popular in the Bay.
Whether your interest is simply in adventuring and journeying, or is more competitive, the best place to start is with a local club who can help you to learn the basics without having to invest in all the kit.
Exploring Tor Bay's 22 miles of coastline by canoe or kayak offers an opportunity to see coastal features that many people are unaware of. Quite often this will be teamed with sighting of the Bay's more elusive marine species such as seals, porpoises and dolphins whose natural inquisitiveness can bring them quite close.
What you need
There's a huge range of designs available for different pursuits. Sit-on-top canoes are popular at the beach but once bitten by the bug you may want to upgrade to a more specific design for fishing or longer coastal passages. There are opportunities around the Bay
to hire a variety of craft, and local clubs offer taster sessions. 
Clubs also offer training for beginners and improvers, and will advise on the correct personal flotation device (PFD) and other equipment you will need. 
Where to go
Like paddleboards, kayaks and canoes can launch from any beach but you are strongly advised to avoid harbour slipways in the interest of public safety. Beaches that have particularly suitable access for kayaks and canoes are Paignton, Preston, Goodrington, Broadsands, Breakwater (Brixham) and Meadfoot (Torquay).
For your safety please avoid entering Torquay harbour and keep well clear of busy fairways at Brixham Harbour.
Useful links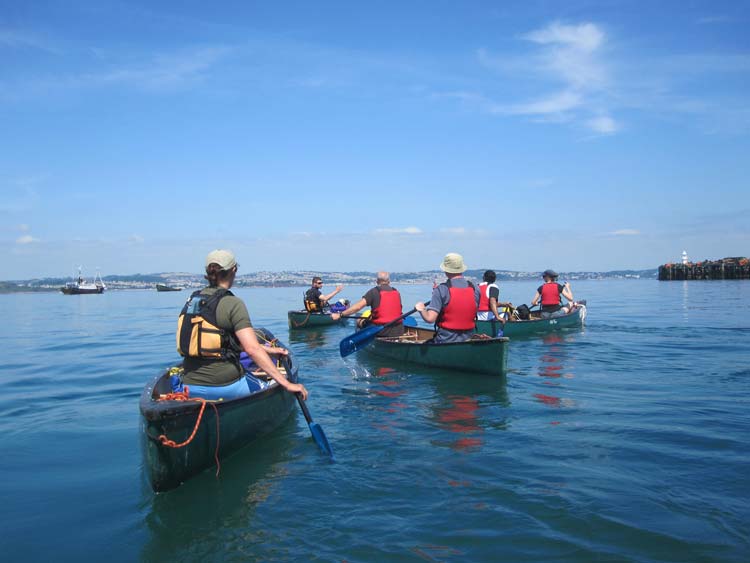 Safety
This is a fast growing sport and whist many participants undertake plenty of training and ensure they carry all the relevant safety equipment, there has been a significant increase in more casual users taking up kayaking and canoeing. To ensure you stay safe whilst enjoying your paddling experience here are some basic tips and recommendations.
Tor Bay Harbour Authority welcomes all participants but we would prefer that you did not launch from the shipways in the enclosed harbours because the entrances get very congested. Your safety is our concern.
Be Prepared - always...
Undertake suitable training in how to use all of your equipment.
Learn and practice techniques to get back onboard your kayak should you capsize.
Ensure you are a confident swimmer and can swim a minimum of 50m in the sea.
Ensure your kayak and equipment are well maintained and ready for the water – check the hatches and drain plugs are secure and watertight, paddle is in good condition, seat is firmly
attached and all gear secured safely.
Wear a suitable approved personal flotation device (PFD).
Ensure your pfd fits correctly and all the straps are done up securely and use crotch straps if fitted.
Wear suitable clothing for the season and conditions, such as a suitable wetsuit/dry suit and layered clothing; wear a hat and gloves in cold conditions.
Carry a suitable means of calling for help (waterproof and fully charged VHF radio or flares).
Take a drink and snack with you (energy bars, dried fruit, nuts, chocolate).
Check the weather and tides before you depart - be aware of wind strength, especially offshore winds (where the wind is blowing out to sea).
Paddle in a group, where possible.
Tell someone back on land where you are going and what time you will be back. Advise the Coastguard of your planned journey.
Sit-on-Top Fishing Kayaks
Do not overload your kayak with fishing kit – it is harder than you think to right a kayak with lots of kit on deck.
Navigation aids, rod holders and other equipment should never be on deck when surfing or landing in surf due to the risk that they may get lost or cause injury.
Anchors should only be used in areas with little or no current – a capsize while at anchor, especially if you are not attached to the kayak, will result in your becoming separated from the kayak even when there is only a small current running.
What to do if you get in trouble or capsize
Call for help using your VHF radio, flares or both.
If you fall in, remember to keep a tight grip on the paddle - on a sit-on-top kayak this should be leashed to your kayak.
Never attempt to swim to shore, always stay with your kayak; by staying with the kayak you make a larger target for the search and rescue groups to see.
Even if you can only get your body partially out of the water you will significantly increase your survival time.
While it's tempting to self-rescue by swimming for it, it has to be your very last option.