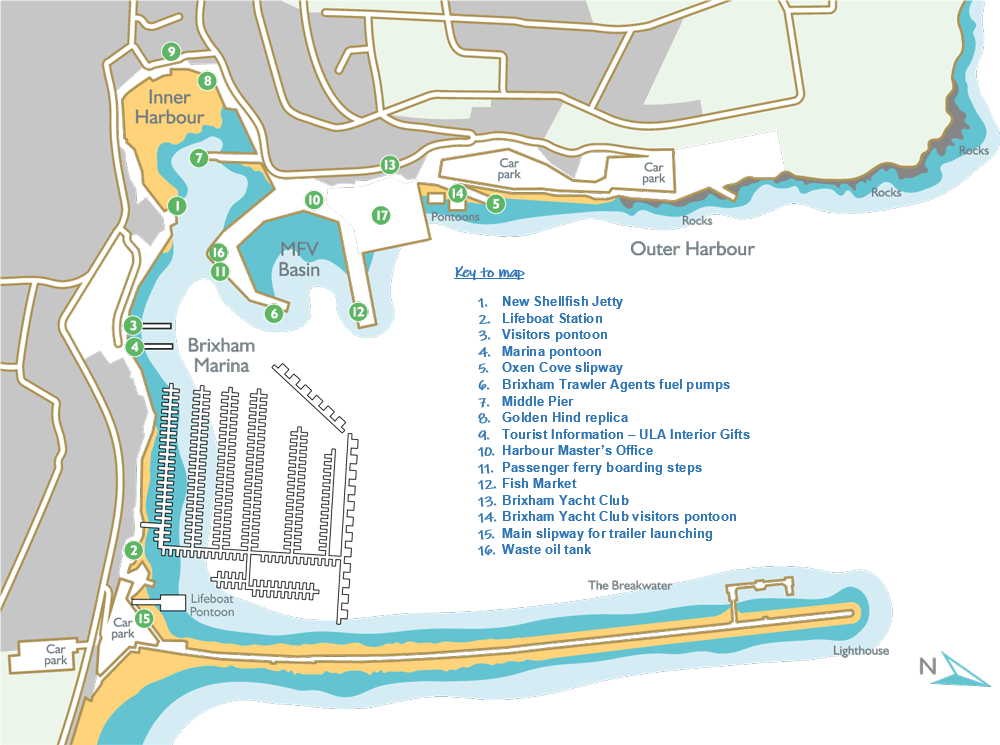 N 50° 24' 31 W 003° 30' 85
Brixham Harbour is located on the southern aspect of Tor Bay and boasts one of the largest fishing fleets in the UK, plus a thriving fish market to support it.
Over 100 fishing boats land and sell their catch at the local Fish Market on the quayside. A visitor viewing platform is conveniently placed so visitors can watch the busy comings and goings of the fishing fleet, made up of large beam trawlers and the smaller day boats. Some of the smaller day boats can actually be seen working at various vantage points around TorBay such as Berry Head, Fishcombe and Hopes Nose.
Approached from the sea the view of Brixham with its many colourful houses cascading down on either side of the harbour is one of the prettiest along the South Devon coast. Brixham personifies the classic English fishing port, mixing tradition with a modern vibrant industry.
The harbour has recently been subject to a huge regeneration project, creating an amazing new fish market complex with business and retail units.
A walk around the Harbour's edge will find several restaurants, bistros and pubs serving delicious, locally caught seafood. The town retains much of its original 'fishing' atmosphere. The central shopping area houses small cafés where famous Devon cream teas can be enjoyed together with locally made pasties. Around the Inner Harbour you will find local artists painting and on Strand Quay stands a statue of Prince William of Orange commemorating his landing at Brixham in 1688. A replica of Sir Francis Drake's Golden Hind can be found in the corner of the Inner Harbour.
Brixham has 'trot and 'swing' moorings. More information on moorings and availability can be found on our 'Moorings Page'.